On September 13, 2023, as part of the BCcampus FLO EdTech Sandbox Series, I presented about Mattermost as a technology for building community in an online learning environment. In this post you will learn about the key features of Mattermost, recommendations for maximizing its pedagogical benefits, and some takeaways from the session.
Post by Ian Linkletter, emerging technology and open education librarian, British Columbia Institute of Technology
Mattermost is an open-source team chat tool that facilitates communication and collaboration. It's similar to Slack and Microsoft Teams, but because it is open source, it has advantages over vendor-controlled options. Mattermost supports "anytime" communication — any time, any place, any device. With Mattermost, students can benefit from a low-bandwidth way to synchronously or asynchronously communicate in writing with their instructor and other members of their learning community.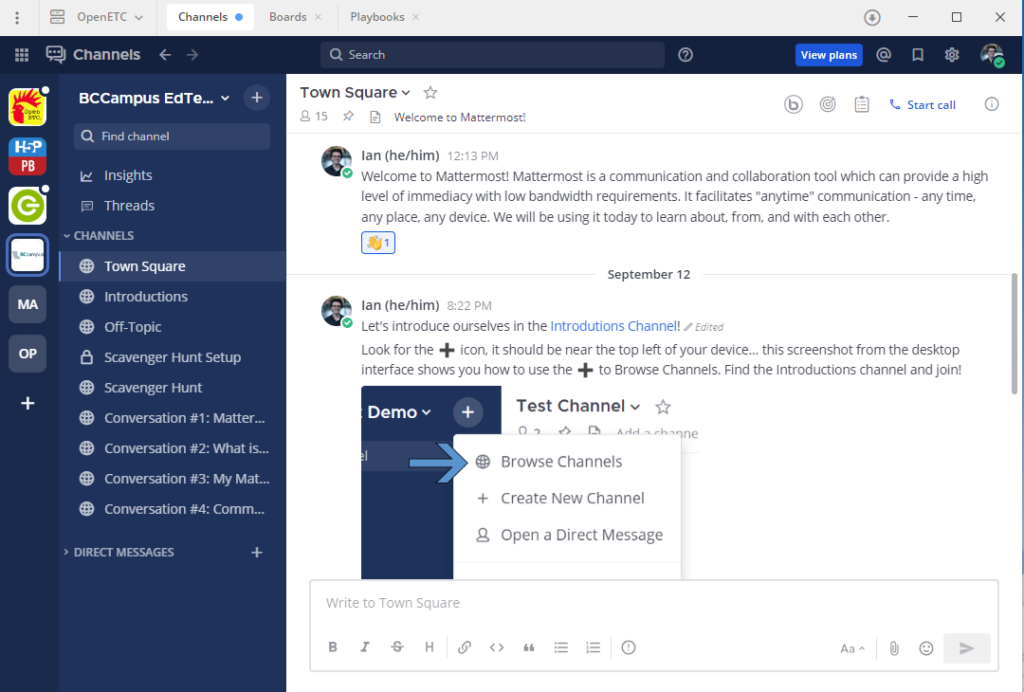 Session participants were familiar with vendor-controlled team chat tools like Slack, Microsoft Teams, Zoom Chat, Discord, Rocket.Chat, Workplace by Meta, and Google Workplace. Popularized by the launch of Slack in 2013, and building from decades-old chat tools like Internet Relay Chat, team-chat software is characterized by a shared feature set. Mattermost has all the following features:
Teams are standalone groups of people who form a learning community, such as a course section.
Channels are public or private chat spaces in a team. In the sandbox session we used an Introductions channel to share information about ourselves, such as our institutions and pronouns. Anyone can create a private channel and invite others for a group project.
Direct messages are available for both one-to-one and group communication.
File sharing allows you to upload and preview files in a chat.
Notifications include push, web, email, or none.
Search for keywords and hashtags by date.
Threaded conversations allow you to selectively follow conversations that you are interested in.
Markdown offers you with rich text formatting.
Use reactions and emojis to, for example, indicate when participants have finished reading an article. In our sandbox session we read Clint Lalonde's "Why I want to try Mattermost for classroom discussions."
User profiles are visible only to teammates and include pictures, display names, and status.
Apps and mobile compatibility are supported with Windows, macOS, Linux, iOS, and Android.
When it comes to learning technology, accessibility is a requirement, not a feature. I have personally tested Mattermost's keyboard navigability and found it to be thorough. Mattermost has a third-party "A" rating for Web Contact Accessibility Guidelines 2.0 and an online Voluntary Product Accessibility Template. Inexplicably, though, Mattermost does not support alternative text for uploaded images. As a workaround, alt text can be included in the file name or in an accompanying comment.
I introduced participants in the session to Daniel Stanford's bandwidth immediacy matrix, a diagram that charts the bandwidth requirements of a technology on the vertical axis and immediacy on the horizontal axis. It served as a framework for our group to discuss the benefits of real-time communication tools that don't require students to have lots of bandwidth. Videoconferencing is an example of a high-bandwidth, high-immediacy technology. Email is a low-bandwidth, low-immediacy technology. Mattermost, primarily a text communication tool, falls in the "blue" zone as a low-bandwidth, high-immediacy technology. As a group we made a Jamboard to map the other blue zone chat tools used at our institutions. Microsoft Teams, Slack, and Mattermost stood out as the most commonly used. Note: Google just announced Jamboard will be discontinued on October 1, 2024.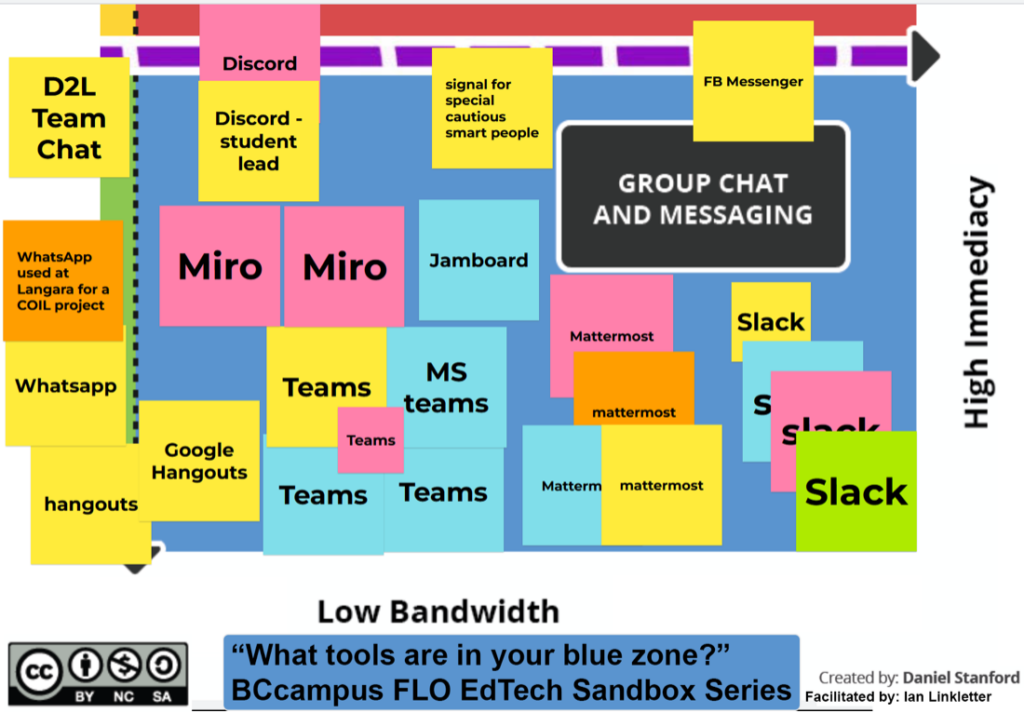 One key difference between Mattermost and similar tools is it is an open technology that can be self-hosted. In a world where vendors are increasingly forcing users to give up their privacy, copyright, and data use rights, tools like Mattermost stand apart. Unlike vendor-controlled cloud services, you don't need to worry about information being stored beyond Canadian sovereignty (see: CLOUD Act) or used to train artificial intelligence. No data is being sold. Even if Mattermost sells the company, the open source code is always yours to use. If you don't like the direction the product goes, you don't have to upgrade. Or you could fork the project and follow your own development path. With open source technology comes freedom, privacy, and choice.
Although Mattermost is officially supported by the University of British Columbia (UBC) and Thompson Rivers University, educators from other B.C. post-secondary institutions can use the OpenETC Mattermost server. The OpenETC is B.C.'s Open EdTech Collaborative, and its server is funded by BCcampus, hosted by BCNET, and administered by Thompson Rivers University. All data is stored in B.C. on Educloud. You can request Mattermost teams using the team request form. You are responsible for following your institution's technology use policies. Be assured the server is secure in the Canadian cloud, and the only information required from students to use it is their institutional email address.
While at UBC, I worked on a Mattermost technology evaluation with talented colleagues from the Centre for Teaching, Learning, and Technology and the Learning Technology Hub. We surveyed 202 students from eight cross-disciplinary courses, and 88 per cent rated the Mattermost user experience as neutral (43 per cent), somewhat positive (23 per cent), or very positive (21 percent). Additionally informed by interviews with eight instructors and teaching assistants, we made seven key recommendations to improve the student experience:
Set up some channels for smaller groups of 10–30 students.
Organize content into clear channels, and guide communication.
Set explicit expectations about instructional team availability.
Integrate with or regularly prompt use from other course sites.
Set loose guidelines for student participation.
Emphasize private communication options for getting help.
Explain why to use Mattermost over other more established chat tools.
UBC's Technology Evaluation Report: Mattermost is highly recommended reading if you wish to learn more about how Mattermost can be used to support teaching and learning.
Over the course of the interactive session, the group participated in a scavenger hunt activity and learned their way around the user interface. We spent time together engaging in synchronous discussions. A pedagogical conversation about the Community of Inquiry framework was left for asynchronous discussion after the session. We used Mattermost throughout, giving participants valuable hands-on experience with the possibilities afforded by this powerful open technology.
Learn more: